FOLA Needs Your Help To Improve Audio System in Auditorium!
In keeping with its efforts to offer improved services to the community and performers, FOLA has initiated a fund raising program to add new audio equipment that will provided greater audio clarity to the audience while customizing sound projection to all performers. This new program will enable FOLA to adjust voice quality and volume to individual performers and speakers, creating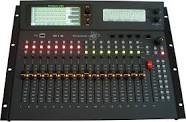 a more uniform sound level for the audience, whether it be in a musical performance, a student play, a candidate's forum, or information meeting.
This program will add a large number of individual head sets for performers and speakers, wireless transmitting devices, and a much enlarged audio control system to manage the volume and quality of each individual wireless head set. The projected cost of this project is $6,000.
FOLA will start efforts to acquire some of these funds through grants. This usually covers about 20% of the total project expense.
This means that FOLA must raise an additional $5,600 through direct fund raising efforts to the public.
In this context, FOLA is beginning its fund raising project for this enhanced audio equipment.
Donations for this project may be made using the on-line service link below or by sending them to:
FOLA Treasurer
1 Whispering Pines
Ludlow, VT 05149
The on-line donation link is:
For additional information, call 802-228-7239 or email info@fola.us.
Keaton's Greatest Movie, "The General", Headlines Silent Movie Festival, August 22
Click HERE for preview
FOLA (The Friends of Ludlow Auditorium) will present its annual Silent Movie Festival on Saturday, August 22, at 7 PM, in the Ludlow Town Hall Auditorium. The features movie will be Buster Keaton's classic film, "The General", supported by the background music provided by Jeff Rapsis. The lead-in to this movie will be another Keaton comedy short featuring the piano music of Glenn Brown.
The General is a 1926 American silent comedy film released by United Artists. Inspired by the Great Locomotive Chase, which happened in 1862, the film stars Buster Keaton who co-directed it with Clyde Bruckman. It was adapted from the memoir The Great Locomotive Chase by William Pittenger.
The film is considered by critics as one of the greatest films ever made. In 2007, The General was ranked #18 by the American Film Institute on their 10th Anniversary list of the 100 best American movies of all time.
"The General" is one of the rare great films that dealt with the Civil War from the Southern point-of-view.
The General (1927) is an imaginative masterpiece of dead-pan "Stone-Face" Buster Keaton comedy, generally regarded as one of the greatest of all silent comedies (and Keaton's own favorite) - and undoubtedly the best train film ever made.
The original tale (told from a Northern perspective) was reworked for the film - the tale was told from the point of view of the South and a Southern engineer, a second return train-chase was added, and a heroine named after Edgar Allan Poe's Annabelle Lee was also introduced. A second film was also made to depict the raid - Walt Disney's The Great Locomotive Chase (1956), with Fess Parker as mastermind Union spy James J. Andrews.
Filled with hilarious sight gags and perfectly timed stunt work, it is memorable for its strong story-line of a single, brave, but foolish Southern Confederate train engineer doggedly in pursuit of his passionately-loved locomotive ("The General") AND the woman he loves. His stoic, unflappable reactions to fateful calamities, his ingenious and resourceful uses of machines and various objects (water tanks, a large piece of timber, a cowcatcher, a rolling artillery cannon on wheels, and unattached railroad cars), and the unpredictable forces of Nature, provide much of the plot.
Made barely three decades after the invention of film itself, Buster Keaton's timeless 1926 silent The General is the perfect chase movie: it has never been bettered, and maybe never will. Keaton plays a train driver during the American civil war who loses both his beloved steam engine The General and his estranged fiancée (Marion Mack) to a troupe of Northern spies. Overcoming impediments both intentional and inadvertent – armies, cannons, bears, rickety bridges—without ever losing his implacable stone-faced cool, Keaton sets off in pursuit. The set-pieces are breathtaking, the stunts barely believable (yes, that's a real train falling from a real bridge), and the blend of broad slapstick, grandiose period drama and heartfelt character comedy is impeccably judged. See it and gasp.
The film's fictionalized plot was based on Lieut. William Pittenger's Daring and Suffering: A History of the Great Railway Adventure (aka The Great Locomotive Chase), a true Civil War story of the daring raid/seizure by a group of about two-dozen Union spies (led by civilian spy James J. Andrews) of a Confederate train near Atlanta (at Marietta, Georgia) in April of 1862. Congress created the Medal of Honor in 1861-62 and posthumously awarded it to some of the Raiders.
As with all FOLA movies, admission is free and open to everyone; donations are appreciated. Popcorn will be provided by Berkshire Bank and FOLA will offer water. For information, call 802-228-7239 or visit the web site at www.fola.us.
Thanks for Helping FOLA Raise Funds to "Re-Seat" the Auditorium!
FOLA's has succeeded in its "reseating" project, thanks to your help!

Now people can enjoy the comfort of new, wider, more comfortable chairs in the auditorium.

Your help was essential in making this happen.

<!p align="right" style="margin-top: 0; margin-bottom: 0"> Now FOLA needs to concentrate on improved audio equipment to make your experience in viewing the many functions that take place in the auditorium more pleasant and rewarding to you.

Your continued help in this effort is imperative.

<!p align="right" style="margin-top: 0; margin-bottom: 0">

or

Mail to:

FOLA

1 Whispering Pines

Ludlow, VT 05149