FOLA Needs Your Help To Improve Audio System in Auditorium!
In keeping with its efforts to offer improved services to the community and performers, FOLA has initiated a fund raising program to add new audio equipment that will provided greater audio clarity to the audience while customizing sound projection to all performers. This new program will enable FOLA to adjust voice quality and volume to individual performers and speakers, creating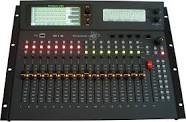 a more uniform sound level for the audience, whether it be in a musical performance, a student play, a candidate's forum, or a public information meeting.
This program will add a large number of individual head sets for performers and speakers, wireless transmitting devices, and a much enlarged audio control system to manage the volume and quality of each individual wireless head set. The projected project will also include a major rewiring of the auditorium to upgrade the facility's 1923 wiring to meet the needs of the 21st century.
FOLA will start efforts to acquire some of these funds through grants. This usually covers about 20% of the total project expense.
This means that FOLA must raise 80% of the anticipated capital costs through direct fund raising efforts to the public.
In this context, FOLA is beginning its fund raising project for this enhanced audio equipment.
Donations for this project may be made using the on-line service link below or by sending them to:
FOLA Treasurer
1 Whispering Pines
Ludlow, VT 05149
The on-line donation link is:
For additional information, call 802-228-7239 or email info@fola.us.
"12 Years a Slave" Next FOLA Movie, November 21
Click HERE for preview
"12 Years a Slave" will be the November film offerring by FOLA. The movie will be shown on Saturday, Nov. 21 at 7 pm at the Ludlow Town Hall Auditorium.
12 Years a Slave is a 2013 period drama film and an adaptation of the 1853 slave narrative memoir Twelve Years a Slave by Solomon Northup, a New York State-born free African-American man who was kidnapped in Washington, D.C., in 1841 and sold into slavery. Northup worked on plantations in the state of Louisiana for 12 years before his release. The first scholarly edition of Northup's memoir, co-edited in 1968 by Sue Eakin and Joseph Logsdon, carefully retraced and validated the account and concluded it to be accurate. Other characters in the film were also real people, including Edwin and Mary Epps, and Patsey.
This is the third feature film directed by Steve McQueen. The screenplay was written by John Ridley. Chiwetel Ejiofor stars as Solomon Northup. Michael Fassbender, Benedict Cumberbatch, Paul Dano, Paul Giamatti, Lupita Nyong'o, Sarah Paulson, Brad Pitt, and Alfre Woodard are all featured in supporting roles. Principal photography took place in New Orleans, Louisiana. The locations used were four historic antebellum plantations: Felicity, Bocage, Destrehan, and Magnolia. Of the four, Magnolia is nearest to the actual plantation where Northup was held.
12 Years a Slave received widespread critical acclaim, and was named the best film of 2013 by several media outlets. It proved to be a box office success, earning over $187 million on a production budget of $22 million. The film won three Academy Awards: Best Picture, Best Supporting Actress for Nyong'o, and Best Adapted Screenplay for Ridley. The Best Picture win made McQueen the first black producer ever to have received the award and the first black director to have directed a Best Picture winner. The film was awarded the Golden Globe Award for Best Motion Picture – Drama, and the British Academy of Film and Television Arts recognized it with the Best Film and the Best Actor award for Ejiofor.
As with all FOLA movies, admission is free and open to everyone; donations are appreciated. Popcorn will be provided by Berkshire Bank and FOLA will offer water. For information, call 802-228-7239 or visit the web site at www.fola.us.
"Comedy Tonight" is Theme for FOLA Follies of 2016
FOLA (Friends of Ludlow Auditorium) has decided that its FOLA Follies of 2016 will have its kick-off meeting on Tuesday, November 17 at 7 pm at the Ludlow town Hall Auditorium. The decision was reached at a meeting of the two key people involved in the Follies, Tesha Buss, its Director, and Kasia Karazim, its pianist/musical provider. The theme of the forthcoming Follies will be "Comedy Tonight". Pictured above are, from left to right, Tesha Buss, Kasia Karazim, and FOLA chairman, Ralph Pace, as they discuss the Follies at a dinner meeting in Ludlow. The Follies of 2016 are scheduled for Saturday, February 27, 2016. Currently a list of appropriate numbers for this musical extravaganza are being prepared. Area performers interested in participating in the third Follies production are invited to contact FOLA at info@fola.us or 802-228-7239 for information about the Follies and the kick-off meeting on Nov. 17. Both Buss and Karazim are excited about the return of the Follies and the opportunity to provide great music to area residents and visitors.
FOLA Announces Movie Selections for 2016
The FOLA (Friends of Ludlow Auditorium) movie committee has selected the films that will be offered by it at the Ludlow Town Hall Auditorium in 2016. One of the unique features of next year's schedule is an anthology of four classic Alfred Hitchcock films during March. The annual August silent film festival was be highlighted by the presentation of Fritz Lang's "Metropolis", a classic sci-fi film. "Metropolis" will feature the musical background provided by Jeff Rapsis.
The 2016 film selections are:
January 2 – Frozen
February 6 – The Imitation Game
March – A Hitchcock Anthology:
March 5 – The 39 Steps
March 12 – Rebecca
March 19 – Vertigo
March 26 – The Birds
April 2 – Enough Said
May 14 – Into the Woods
June 4 – Wild
July 9 – The Ghost and Mrs. Muir
August 6 – Ex Machina
August 20 – Silent Movie Festival – Metropolis
September 3 – The Theory of Everything
October 1 – Bernie
November 12 – Maleficent
December 3 – I'll See You in My Dreams
All movies will start at 7 PM and be open to the public at no charge; donations will be appreciated to underwrite the cost of the films. For additional information, call 802-228-7239 or go to www.fola.us, FOLA's web site.
Thanks for Helping FOLA Raise Funds to "Re-Seat" the Auditorium!
FOLA's has succeeded in its "reseating" project, thanks to your help!

Now people can enjoy the comfort of new, wider, more comfortable chairs in the auditorium.

Your help was essential in making this happen.

<!p align="right" style="margin-top: 0; margin-bottom: 0"> Now FOLA needs to concentrate on improved audio equipment to make your experience in viewing the many functions that take place in the auditorium more pleasant and rewarding to you.

Your continued help in this effort is imperative.

<!p align="right" style="margin-top: 0; margin-bottom: 0">

or

Mail to:

FOLA

1 Whispering Pines

Ludlow, VT 05149