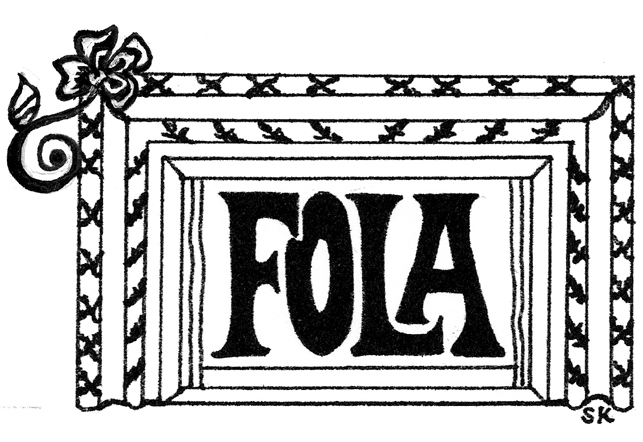 Friends of Ludlow Auditorium
1 Whispering Pines • Ludlow, VT 05149
Tel (802) 228-7239 • email: info@fola.us
[a 50l (c)(3) organization]
"Our purpose is to promote the use of the Ludlow Auditorium for the benefit and entertainment of the people of Ludlow, the surrounding Black River & Okemo Valley area, and its visitors"
FOLA Kicks Off Fund Rasing for New 2019 Projects
FOLA began its fund raising efforts to underwrite the costs of new projects it has planned for 2019.
Included in these projects are:
• Upgrading stage & balcony spotlights

• Completing the audio consolidation in the balcony

• Designing a permanent stage setting & rigging

• Installing modern risers for group performers on stage
To help FOLA realize these goals, interested donors may contribute to FOAL by using the online facilities of this web site by clicking HERE or mail their donation to:
FOLA

1 Whispering Pines

Ludlow, VT 05149
All contributions are tax-deductible since FOLA is a 501(c)(3) organization.
With the kind help of Wright Construction of Mt. Holly and LaValleys of Ludlow who supplied the paint, both the stage floor and the back stage areas of Heald Auditorium received two coats of new paint. Below, the Wright Construction crew is pictured. They are, from left to right, Chris Lafrenier, Rich Butrimas, Scott Grover, Scott Robertson, Joe Poston, Gordon Ashcroft, Carl Lavallee II, Sara Lavallee, Cody Lavallee, Autumn Lavallee , and Carl Lavallee III.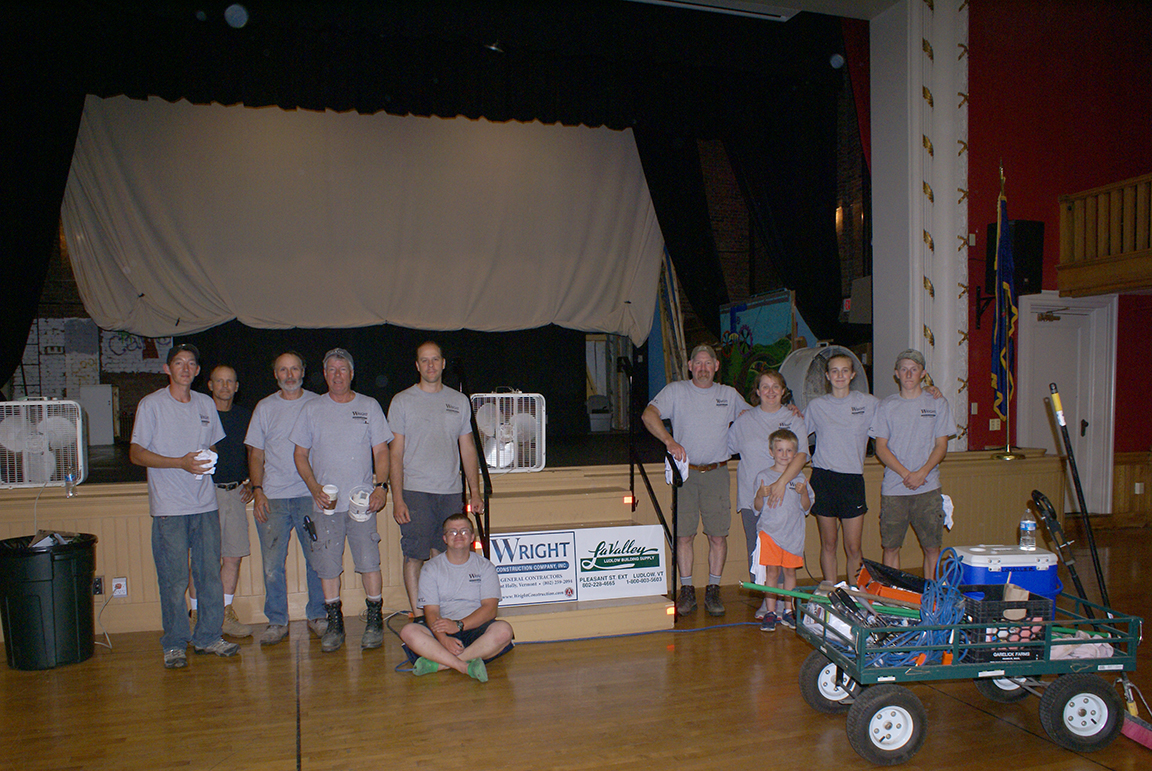 In addition to giving the floor a well-deserved coat of paint, Wright Construction also removed an extremely heavy piano harp which had plagued us since we dismantled the old piano.
Many thanks to the folks at Wright Construction and LaValley for their help in restoring the stage floor - and removing the piano harp!

Miss seeing the great Christmas 2018 Program?
Just Click HERE for the entire show!
Checkout FOLA's Summary of Activities and Accomplishments by clicking HERE.
Coming Movies:
April 27, 2019
at 7 PM
"Return of the Pink Panther"
Click Here for preview
2/9/2019
Date of last web site update
Around the middle of February, we all seem to suffer from that plague known as "Cabin Fever". In an effort to alleviate this ailment the "doctors" at FOLA have developed a marvelous cure - an evening in the tropics with the sounds and music of the Caribbean Islands.
On Saturday, February 16 at 7 PM in the Heald Auditorium at Ludlow Town Hall, FOLA will present the music of the Calypso Connections - a 10 piece ensemble of steel drums playing the music of the tropics. Come tap your feet and sway your hips to the sound of calypso, reggae and samba, as Vermont's largest steel band performs a mix of favorite tunes from the islands and beyond.
(And, if you're so inclined, perhaps you could do a little dancing as well - as you rid yourself of Vermont's winter weather and musically slip into the 'trade wind' climate of the islands!)
So mark your calendar for Saturday, February 16 at 7 PM in Heald Auditorium at Ludlow Town Hall as you listen to the warmth and feel the gentle breezes emanating from the steel drums of the Calypso Connections!
It's all free (donations are appreciated) and open to everyone! For information, call 802-228-7239 or visit FOLA's web site at www.fola.us.
"Billy Elliot-Live" Featured in Auditorium, March 16
"Billy Elliot the Musical Live" will be featured by FOLA on Saturday, March 16 at 7:00 P.M. at the Heald Auditorium at the Ludlow Town Hall.
Billy Elliot tells the story of a young boy from a coal mining village in northeast England who transcends class and circumstance to become a ballet star. The musical is set against the backdrop of the 1984-5 miners' strike, which tragically affects the whole village. Billy is looked after by his father, brother, and grandfather, after his mother's death a few years earlier. They are not well off and have no experience with, or tolerance for, the arts. His dad and brother are totally against the idea of him learning to dance but Billy finds himself drawn towards the ballet world.
As a result, Billy is forced to take his boxing lesson money and use it secretly for dance lessons from local dance teacher Mrs. Wilkinson. She quickly notices that Billy is a prodigy and takes him under her wing. Soon, despite his family's resistance, Mrs. Wilkinson manages to get Billy an audition with The Royal Ballet School in London. The village learns to overcome their ill- founded prejudices and, along with Billy's father, come around to support Billy's dream to become a dancer as Billy defies the odds and is finally accepted into The Royal Ballet School.
As with all FOLA movies, the musical is free and open to everyone; donations are appreciated. For information, call 802-228-7239 or visit the FOLA website at www.fola.us.
FOLA will begin its annual special movie series for 2019 on Saturday, April 13 at 7 pm in the Heald Auditorium at Ludlow Town Hall. This year's series will feature the films of Peter Sellers, starting with the hilarious comedy, "The Mouse That Roared".
The Mouse That Roared is a 1959 British satirical Eastman Color comedy film based on Leonard Wibberley's novel The Mouse That Roared. It stars Peter Sellers in three roles: Duchess Gloriana XII; Count Rupert Mountjoy, the Prime Minister; and Tully Bascomb, the military leader; and co-stars Jean Seberg.
The minuscule European Duchy of Grand Fenwick is bankrupted when an American company comes up with a cheaper imitation of Fenwick's sole export, its fabled Pinot Grand Fenwick wine. Crafty prime minister Count Mountjoy (Peter Sellers) devises a plan: Grand Fenwick will declare war on the United States, then surrender, taking advantage of American largesse toward its defeated enemies to rebuild the defeated nation's economy. Grand Duchess Gloriana (also Sellers) is hesitant but agrees to the plan. Mild-mannered game warden Tully Bascomb (also Sellers) is charged as Field Marshal to lead the Fenwick troops, aided by Sergeant Will Buckley (William Hartnell).
The contingent of 20 soldiers in medieval chain mail books passage across the Atlantic on a small merchant ship, arriving in New York Harbor during an air-raid drill that leaves the city deserted and undefended. After a series of mishaps, the invading forces capture the inventor of the Q-Bomb and his bomb and return to Grand Fenwick victorious.
America surrenders - and then the real fun begins!
The movie is open to everyone and is free (donations are appreciated). Berkshire Bank will provide the popcorn with FOLA supplying water. For information, call 802-228-7239 or visit FOLA's web site at www.fola.us.
• Upgrade stage & balcony spotlights

• Complete the audio consolidation in the balcony

• Design a permanent stage setting & rigging

• Bring New and Exciting musical events to the Heald Auditorium

• Continue streaming Broadway musicals and plays

We're planning on additional improvements this year and hope you'll continue to help us present quality entertainment and public service programming in the beautiful Heald Auditorium in the Ludlow Town Hall.
<!p align="right" style="margin-top: 0; margin-bottom: 0">
or

Mail to:

FOLA

1 Whispering Pines

Ludlow, VT 05149