FOLA Features Silent Movie Special Saturday, August 12
Due to the popularity of the Buster Keaton silent movie shorts and the availability of Ludlow summer resident and pianist, Glenn Brown, FOLA (Friends of Ludlow Auditorium) will offer a special treat on Saturday, August 12 at 7 PM in the Ludlow Town Hall Auditorium - a special silent movie comedy festival.
The event will feature a series of Buster Keaton silent movie shorts with Glenn Brown at the upright grand piano providing the background music to support the comic actions on the screen.
"It will be an unforgetable evening of comedy with Buster Keaton bringing his rip roaring antics to Ludlow for Silent Movie Night with local performer Glenn Brown, the Piano Man, tickling the ivories!", noted FOLA chairman, Ralph Pace.
The Keaton comedy shorts are about 20 minutes in length and feature the comedic (and often acrobatic) talents of the foremost comedian in the silent movie era.
"Buster" Keaton was an American actor, comedian, film director, producer, screenwriter, and stunt performer. He was best known for his silent films, in which his trademark was physical comedy with a consistently stoic, deadpan expression, earning him the nickname "The Great Stone Face." Critic Roger Ebert wrote of Keaton's "extraordinary period from 1920 to 1929, he worked without interruption on a series of films that make him, arguably, the greatest actor–director in the history of the movies".
The silent movie night is open to everyone and is free; donations are appreciated. Berkshire Bank will supply the popcorn with water provided by FOLA. For information, call (802) 228-7239 or visit the FOLA web site, www.fola.us.
FOLA Decides To Dismantle Old Piano
After advertising its availability at no cost for six months on social media, Frontporch, news releases, and every other conceivable means of communication, FOLA (Friends of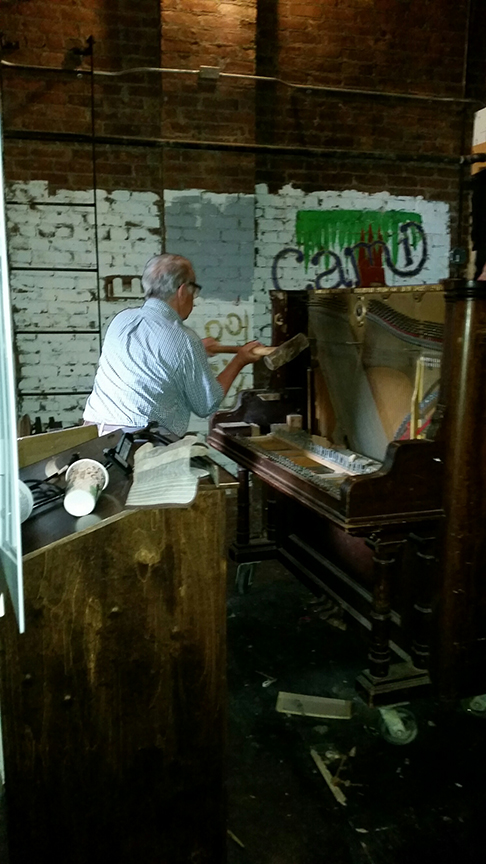 Ludlow Auditorium) decided it was time to dismantle a very old and somewhat out-of-tune piano that someone had stored back stage in the Ludlow Town Hall Auditorium. So, armed with hammers, saws, screw drivers, and a heavy sledge hammer, three members of the FOLA Board of Directors, Jim Alic, Martin Nitka, and Harry Welch, began the process of tearing down the very old (and somewhat decrepit) instrument. Bystander Ralph Pace said that "it seemed terrible to destroy such a musical instrument but that the piano took up space in the auditorium's back stage that was desperately need for FOLA's new development efforts". He added that, since no one wanted the piano, there was little alternative to its dismantling. Marty Nitka, realizing the difficulty in tearing down the old instrument, decided that an old-fashion sledge hammer was needed, which he utilized with alarming accuracy and talent. Meanwhile, Jim Alic and Harry Welch made sure that the weight of the falling piano did not disrupt any town equipment. After an hour of labor, the
bulk of the separated pieces of the once intact piano were loaded into Alic's pickup and disposed of at the town transfer station. It was noted that one of the dismantlers, who remained anonymous, was heard saying. "I have no future plans to tear apart another piano but, should the occasion arise, I hope these guys are available to help!"
(Pictured above is the cast of the FOLA Follies of 2016 in the opening number.)
Missed seeing the FOLA Follies of 2016? You can still see the show - just
click HERE !!!
Checkout FOLA's Summary of Activities and Accomplishments by clicking HERE.
Coming Movies:
August 19, 2017
at 7 PM
"Long Days Journey into Night"
Click HERE for preview
7/20/2017
Date of last web site update
At its recent meeting, the FOLA Board of Directors decided on new programs to enhance the Ludlow Town Hall Auditorium.
The plans covered four areas where improvements will be implemented.
Dressing Room
The board decided that the informal dressing rooms, currently used for storage of props, will be upgraded to a "real" dressing room. Plans call for the installation of appropriate lighting, mirrors, and work areas for performers. Included in the redesign will be speakers so that performers will be aware of activities on stage as well as closet space for performer clothing.
Equipment Upgrade
Due to the heavy use of blu-ray, dvd, and laptop equipment, it was decided that professional-level equipment was needed to handle the future use of movie projection, streaming, and original stage presentations. The principal upgrades will be a professional-level blu-ray player and storage devices for laptops used for streaming and PowerPoint presentations.
Integrated Audio System
Currently, two different audio systems are used in the auditorium. This creates a problem in the clarity of the sound produced. It has been decided that the controls and speakers for the new audio system will be handled through a single, integrated equipment package.
Enhanced Streaming
The recently implemented streaming system has proven to be very popular with audiences. Currently, the streaming is linked to a Broadway-based web site that offers musicals and plays. FOLA would like to expand this to cover popular events now being broadcast over the Internet. These could include pop concerts, public affairs broadcasts, sports, and other programming available through such services as Netflix, Amazon, and Roku.
"All of these improvements are geared at providing greater programming flexibility and consistent equipment operability for our audiences", noted Ralph Pace, FOLA Chairman. He added that the time table for these improvement would be between July and early 2018.
FOLA will offer a screening of Eugene O'Neill's classic play, "Lo
ng Days Journey into Night", on August 19 at 7 PM in the Ludlow Town Hall Auditorium.
The play, considered by many to be autobiographical, will be produced by the Weston Playhouse to conclude its 2017 playhouse season from August 24 through September 3 as part of its American Masters series.
Piper Goodeve, Weston Playhouse Director of Education/Artistic Associate, will be present at the FOLA screening on August 19 to discuss the Weston production. Those attending the FOLA film version of the play will be eligible for a $5 ticket discount simply by advising the box office that they had attended the FOLA movie version of the play on August 19.
The Weston Playhouse box office is (802) 824-5288.
Click HERE for preview
The next FOLA (Friends of Ludlow Auditorium) movie will be "Eye in the Sky" on Saturday, August 5 at 7 PM in the Ludlow Town Hall Auditorium.
Eye in the Sky is a 2015 British thriller film starring Helen Mirren, Aaron Paul, Alan Rickman and Barkhad Abdi. The film, directed by Gavin Hood and based on a screenplay by Guy Hibbert, highlights the ethical challenges of drone warfare.
Colonel Katherine Powell, a UK-based military officer is in command of a top secret drone operation to capture terrorists in Kenya. Through remote surveillance and on-the-ground intel, Powell discovers the targets are planning a suicide bombing and the mission escalates from "capture" to "kill." But as American pilot Steve Watts is about to engage the targets, a nine-year old girl enters the kill zone, triggering an international dispute reaching the highest levels of US and British government over the moral, political, and personal implications of modern warfare.
Film critic Roger Ebert, commenting on the decision making process involved at the core of this movie, noted "The concept that renders the decision-making so agonizingly protracted is called "referring up." The various political and military officials we watch keep deciding they don't have the authority to decide, so they "refer up" to their superiors. Eventually this process even crosses international boundaries. When the British Foreign Secretary decides he can't decide because the targets include a radicalized American citizen, the can is kicked to the U.S. Secretary of State (Michael O'Keefe). The movie finds him at a ping pong tournament in China, and the Secretary instantly conveys his assent. Then comes the priceless moment: a look/gesture from him that effectively says, "Those Brits—what a bunch of wusses."
It's a brilliant touch on several levels, perhaps not all of them intended. Though it conveys something about the differences between American and British personalities, the moment also touches on ambivalences that some viewers, especially Americans, may feel regarding "Eye in the Sky."
The movie is open to everyone and is free; donations are appreciated. Popcorn will be provided by Berkshire Bank and water by FOLA. For information, call (802)228-7239 or visit the FOLA web site at www.fola.us.
We'll be showing Broadway musicals and other cultural and informational programming over the course of this year - and in the future, thanks to your contributions and a marvellous donation from the District Rotary and Ludlow Rotary Club.

Take a look at our movies and coming events to see what we'll be offerring area residents and visitors. Rather than travel to the Big Apple and spend several hundred dollars for theatre tickets, you'll be able to see prime Broadway shows and plays in the Auditorium free (donations are appreciated) - all thanks to your financial assistance!

We're planning on more improvements this year and hope you'll continue to help us present quality entertainment and public service programming in the beautiful Ludlow Town Hall Auditorium.
<!p align="right" style="margin-top: 0; margin-bottom: 0">

or

Mail to:

FOLA

1 Whispering Pines

Ludlow, VT 05149