FOLA Needs Your Help To Improve Audio System in Auditorium!
In keeping with its efforts to offer improved services to the community and performers, FOLA has initiated a fund raising program to add new audio equipment that will provided greater audio clarity to the audience while customizing sound projection to all performers. This new program will enable FOLA to adjust voice quality and volume to individual performers and speakers, creating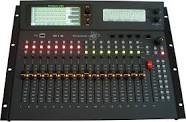 a more uniform sound level for the audience, whether it be in a musical performance, a student play, a candidate's forum, or a public information meeting.
This program will add a large number of individual head sets for performers and speakers, wireless transmitting devices, and a much enlarged audio control system to manage the volume and quality of each individual wireless head set. The projected project will also include a major rewiring of the auditorium to upgrade the facility's 1923 wiring to meet the needs of the 21st century.
FOLA will start efforts to acquire some of these funds through grants. This usually covers about 20% of the total project expense.
This means that FOLA must raise 80% of the anticipated capital costs through direct fund raising efforts to the public.
In this context, FOLA is beginning its fund raising project for this enhanced audio equipment.
Donations for this project may be made using the on-line service link below or by sending them to:
FOLA Treasurer
1 Whispering Pines
Ludlow, VT 05149
The on-line donation link is:
For additional information, call 802-228-7239 or email info@fola.us.
Robert Redford's "All is Lost" Next FOLA Movie, September 5
Click HERE for preview
FOLA will feature the film, "All is Lost", Saturday, September 5, at 7 PM, at the Ludlow Town Hall Auditorium.
"All is Lost" stars Robert Redford in what many critics believe to be his greatest acting performance in his career. What is unique about this film is the fact that Redford is the only actor in it. It is a tale not simply of man against the sea but man against himself.
All Is Lost is a 2013 survival drama film written and directed by J. C. Chandor. The film stars Robert Redford as a man lost at sea. Redford is the only cast member, and the film has very few spoken words.
Somewhere in the Indian Ocean ("1700 nautical miles from the Sumatra Straits"), a man (Robert Redford) says, "I'm sorry. I know that means little at this point, but I am. I tried. I think you would all agree that I tried. To be true, to be strong, to be kind, to love, to be right, but I wasn't." He declares, "All is lost."
Eight days earlier, as he wakes up, he sees that water has started to flood his boat, the Virginia Jean, a Cal 39 yacht. He goes out onto the deck and sees that his boat has collided with a wayward shipping container which has ripped a hole in the hull. He goes below to get a sea anchor and ties it to the container. After dislodging the container, water is streaming into his boat. To correct this, he has to head in the opposite direction of his original course to tilt the boat away from the hole. He goes to work patching up the hole in his boat and uses the manual- or hand-bilge pump hole to remove the water from the cabin. After the cleanup, exhausted, he finds that the boat's navigational and communications systems have been damaged, due to saltwater intrusion as a result of the collision. He tries to repair the radio and connects it to one of the boat's batteries but is ultimately unsuccessful. When he climbs the mast to repair an antenna lead, he sees an oncoming tropical storm. He immediately descends to make preparations for it.
The storm quickly reaches his position, and he runs before the wind under bare poles for a while, until he feels this storm tactic becomes too tiresome and dangerous. He intends to bring the boat into a hove-to position, but when crawling to the bow to hoist the storm jib, he is thrown overboard and only just regains the deck after a long struggle. The boat capsizes and turtles, and after a further 180-degree roll, is dis-masted, and most of the equipment on board destroyed. With the boat badly holed and sinking, he decides to abandon ship in an inflatable life raft, salvaging whatever he can to survive.
What follows is his tale of seeking rescue. But, more importantly, it is the saga of a man's willingness to survive.
As with all FOLA movies, admission is free and open to everyone; donations are appreciated. Popcorn will be provided by Berkshire Bank and FOLA will offer water. For information, call 802-228-7239 or visit the web site at www.fola.us.
Thanks for Helping FOLA Raise Funds to "Re-Seat" the Auditorium!
FOLA's has succeeded in its "reseating" project, thanks to your help!

Now people can enjoy the comfort of new, wider, more comfortable chairs in the auditorium.

Your help was essential in making this happen.

<!p align="right" style="margin-top: 0; margin-bottom: 0"> Now FOLA needs to concentrate on improved audio equipment to make your experience in viewing the many functions that take place in the auditorium more pleasant and rewarding to you.

Your continued help in this effort is imperative.

<!p align="right" style="margin-top: 0; margin-bottom: 0">

or

Mail to:

FOLA

1 Whispering Pines

Ludlow, VT 05149