FOLA Needs Your Help To Improve Audio System in Auditorium!
In keeping with its efforts to offer improved services to the community and performers, FOLA has initiated a fund raising program to add new audio equipment that will provided greater audio clarity to the audience while customizing sound projection to all performers. This new program will enable FOLA to adjust voice quality and volume to individual performers and speakers, creating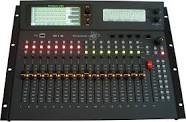 a more uniform sound level for the audience, whether it be in a musical performance, a student play, a candidate's forum, or information meeting.
This program will add a large number of individual head sets for performers and speakers, wireless transmitting devices, and a much enlarged audio control system to manage the volume and quality of each individual wireless head set. The projected cost of this project is $6,000.
FOLA will start efforts to acquire some of these funds through grants. This usually covers about 20% of the total project expense.
This means that FOLA must raise an additional $4,800 through direct fund raising efforts to the public.
In this context, FOLA is beginning its fund raising project for this enhanced audio equipment.
Donations for this project may be made using the on-line service link below or by sending them to:
FOLA Treasurer
1 Whispering Pines
Ludlow, VT 05149
The on-line donation link is:
For additional information, call 802-228-7239 or email info@fola.us.
FOLA Cosponsors 'Exploring Business Ownership' with Chamber July 23
FOLA will cosponsor a program, 'Exploring Business Ownership', with the Okemo Valley Regional Chamber of Commerce on Thursday, July 23, at 7 PM at the Ludlow Town Hall Auditorium.
The program will feature Chris Herriman, Economic Development Specialist with the Small Business Administration (SBA) in Montpelier/
SBA in partnership with AARP is promoting entrepreneurship among individuals ages 50 and older, or encore entrepreneurs. Many older entrepreneurs are using their decades of experience and connections to start new businesses. With this in mind, SBA and AARP have created a workshop called 'Exploring Business Ownership' that can benefit older individuals looking to start or grow their business.
The workshop is free and open to everyone. For additional information, call (802) 228-5830.
Click HERE for preview
The next FOLA movie will be the award-winning, "Laura", on Saturday, August 1 at 7 PM, at the Ludlow Town Hall Auditorium.
Laura is a 1944 American film noir produced and directed by Otto Preminger. It stars Gene Tierney, Dana Andrews, and Clifton Webb along with Vincent Price and Judith Anderson. The screenplay by Jay Dratler, Samuel Hoffenstein, and Betty Reinhardt is based on the 1943 novel of the same title by Vera Caspary. In 1999, Laura was selected for preservation in the United States National Film Registry by the Library of Congress as being "culturally, historically, or aesthetically significant".
When the famous advertising executive Laura Hunt is found dead in her apartment killed by a shotgun on a Friday night, Detective Lieutenant Mark McPherson is in charge of the investigation. He interviews the prime suspects and friends of Laura: the snob and arrogant journalist Waldo Lydecker who promoted Laura at the beginning of her career and fell in love with her; and her fiancé, the playboy Shelby Carpenter. While investigating Laura's past through her diary and personal letters, Det. McPherson falls in love with her.
Roger Ebert of the Chicago Sun-Times wrote: Film noir is known for its convoluted plots and arbitrary twists, but even in a genre that gave us The Maltese Falcon, this takes some kind of prize ... That Laura continues to weave a spell – and it does – is a tribute to style over sanity ... All of the absurdities and improbabilities somehow do not diminish the film's appeal. They may even add to it ... The whole film is of a piece: contrived, artificial, mannered, and yet achieving a kind of perfection in its balance between low motives and high style. What makes the movie great, perhaps, is the casting. The materials of a B-grade crime potboiler are redeemed by Waldo Lydecker, walking through every scene as if afraid to step in something.
Even the music for the film was outstanding.
Once principal photography was completed, Preminger hired David Raksin to score the film. The director wanted to use "Sophisticated Lady" by Duke Ellington for the main theme, but Raksin objected to the choice. Alfred Newman, music director for Fox, convinced Preminger to give Raksin a weekend to compose an original tune. Inspired by a Dear John letter he had once received from a girlfriend, Raksin wrote the haunting theme for which Johnny Mercer later wrote lyrics. It eventually became a jazz standard recorded by more than four hundred artists, including Stan Kenton, Dick Haymes, Woody Herman, Nat King Cole, The Four Freshmen, Charlie Parker, and Frank Sinatra. Even Spike Jones did a parody version of the song. Preminger was so pleased with Raksin's score the two collaborated on four additional films.
The movie is free and open to everyone; donations are appreciated. Popcorn will be provided by Berkshire Bank and water by FOLA. For additional information, call 228-7239 or www.fola.us.
Thanks for Helping FOLA Raise Funds to "Re-Seat" the Auditorium!
FOLA's has succeeded in its "reseating" project, thanks to your help!

Now people can enjoy the comfort of new, wider, more comfortable chairs in the auditorium.

Your help was essential in making this happen.

<!p align="right" style="margin-top: 0; margin-bottom: 0"> Now FOLA needs to concentrate on improved audio equipment to make your experience in viewing the many functions that take place in the auditorium more pleasant and rewarding to you.

Your continued help in this effort is imperative.

<!p align="right" style="margin-top: 0; margin-bottom: 0">

or

Mail to:

FOLA

1 Whispering Pines

Ludlow, VT 05149