FOLA Needs Your Help To Improve Audio System in Auditorium!
In keeping with its efforts to offer improved services to the community and performers, FOLA has initiated a fund raising program to add new audio equipment that will provided greater audio clarity to the audience while customizing sound projection to all performers. This new program will enable FOLA to adjust voice quality and volume to individual performers and speakers, creating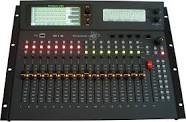 a more uniform sound level for the audience, whether it be in a musical performance, a student play, a candidate's forum, or information meeting.
This program will add a large number of individual head sets for performers and speakers, wireless transmitting devices, and a much enlarged audio control system to manage the volume and quality of each individual wireless head set. The projected cost of this project is $6,000.
FOLA will start efforts to acquire some of these funds through grants. This usually covers about 20% of the total project expense.
This means that FOLA must raise an additional $4,800 through direct fund raising efforts to the public.
In this context, FOLA is beginning its fund raising project for this enhanced audio equipment.
Donations for this project may be made using the on-line service link below or by sending them to:
FOLA Treasurer
1 Whispering Pines
Ludlow, VT 05149
The on-line donation link is:
For additional information, call 802-228-7239 or email info@fola.us.
Click HERE for preview
The next FOLA movie offerring will be the award-winning "Philomena", starring Judi Dench, on Saturday, July 11, at 7 PM at the Ludlow Town Hall Auditorium.
Philomena is a 2013 drama film directed by Stephen Frears, based on the book The Lost Child of Philomena Lee by journalist Martin Sixsmith. Starring Judi Dench and Steve Coogan, it tells the true story of Philomena Lee's 50-year-long search for her forcibly adopted son, and Sixsmith's efforts to help her find him. The film was co-produced in the United States and the United Kingdom.
The film has been recognised by several international film awards. Coogan and Jeff Pope won Best Screenplay at the 70th Venice International Film Festival. It was also awarded the People's Choice Award Runner-Up prize at the 2013 Toronto International Film Festival. The film was nominated in four categories at the 86th Academy Awards: Best Picture, Best Adapted Screenplay for Coogan and Pope, Best Actress for Dench, and Best Original Score for Desplat. It was also nominated for four BAFTA Awards and three Golden Globe Awards.
The film tells the story of Philomena's search, with Sixsmith's help, for her lost son. London journalist Martin Sixsmith has lost his job as a Labour government adviser, and is contemplating writing a book on Russian history. He is approached at a party by the daughter of Philomena Lee. She suggests that he write a story about her mother, who was forced to give up her toddler son Anthony nearly fifty years ago. Although he initially opposes the idea of writing a human interest story, he eventually meets with Philomena and decides to investigate further.
After having sex with a young man at a fair in 1951, Philomena became pregnant and was sent by her father to Sean Ross Abbey in Roscrea in Ireland. After giving birth, she was forced to work in the convent laundry, seven days a week, for four years to pay off the cost of her stay. One day she discovered that the nuns had given her son to a couple for adoption, without warning or a chance for Philomena to say goodbye. Philomena kept her lost son a secret from her family for nearly fifty years, but she visited the convent periodically to try to find him.
The movie is open to everyone and is free; donations are appreciated to underwrite the cost of the movie. Free popcorn is supplied by Berkshire Bank and water by FOLA. For more information, call 802-228-7239 or email info@fola.us.
Thanks for Helping FOLA Raise Funds to "Re-Seat" the Auditorium!
FOLA's has succeeded in its "reseating" project, thanks to your help!

Now people can enjoy the comfort of new, wider, more comfortable chairs in the auditorium.

Your help was essential in making this happen.

<!p align="right" style="margin-top: 0; margin-bottom: 0"> Now FOLA needs to concentrate on improved audio equipment to make your experience in viewing the many functions that take place in the auditorium more pleasant and rewarding to you.

Your continued help in this effort is imperative.

<!p align="right" style="margin-top: 0; margin-bottom: 0">

or

Mail to:

FOLA

1 Whispering Pines

Ludlow, VT 05149