FOLA Decides To Dismantle Old Piano
After advertising its availability at no cost for six months on social media, Frontporch, news releases, and every other conceivable means of communication, FOLA (Friends of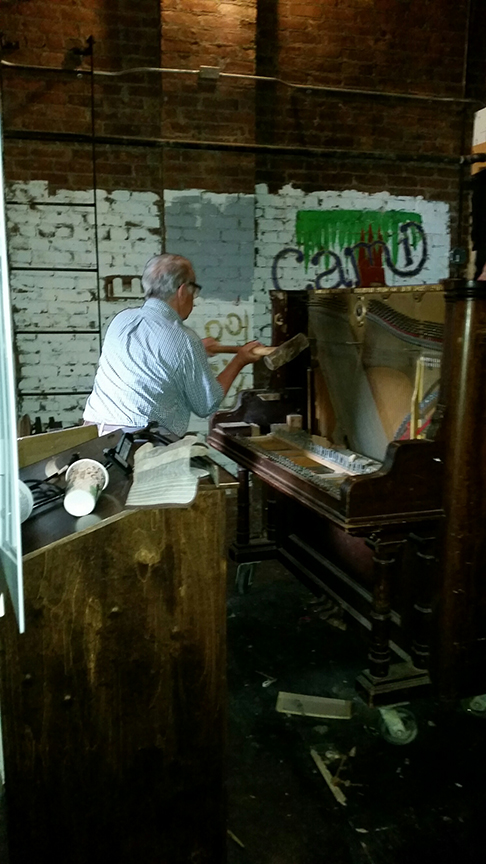 Ludlow Auditorium) decided it was time to dismantle a very old and somewhat out-of-tune piano that someone had stored back stage in the Ludlow Town Hall Auditorium. So, armed with hammers, saws, screw drivers, and a heavy sledge hammer, three members of the FOLA Board of Directors, Jim Alic, Martin Nitka, and Harry Welch, began the process of tearing down the very old (and somewhat decrepit) instrument. Bystander Ralph Pace said that "it seemed terrible to destroy such a musical instrument but that the piano took up space in the auditorium's back stage that was desperately need for FOLA's new development efforts". He added that, since no one wanted the piano, there was little alternative to its dismantling. Marty Nitka, realizing the difficulty in tearing down the old instrument, decided that an old-fashion sledge hammer was needed, which he utilized with alarming accuracy and talent. Meanwhile, Jim Alic and Harry Welch made sure that the weight of the falling piano did not disrupt any town equipment. After an hour of labor, the
bulk of the separated pieces of the once intact piano were loaded into Alic's pickup and disposed of at the town transfer station. It was noted that one of the dismantlers, who remained anonymous, was heard saying. "I have no future plans to tear apart another piano but, should the occasion arise, I hope these guys are available to help!"
(Pictured above is the cast of the FOLA Follies of 2016 in the opening number.)
Missed seeing the FOLA Follies of 2016? You can still see the show - just
click HERE !!!
Checkout FOLA's Summary of Activities and Accomplishments by clicking HERE.
Coming Movies:
November 11, 2017
at 7 PM
"City Slickers"
Click HERE for preview
9/10/2017
Date of last web site update
The Phantom of the Opera is the next Broadway musical to be streamed by FOLA (Friends of Ludlow Auditorium) on Saturday, September 23rd, starting at 7:00 PM, at the Ludlow Town Hall Auditorium.
To celebrate the 25th anniversary of Andrew Lloyd Webber's 1986 musical, The Phantom of the Opera, which was based on the French novel by Gaston Leroux, three special performances were filmed at London's Royal Albert Hall. Footage from all three of these performances were edited together to make this 2011 British film adaptation of The Phantom.
The extensive cast of The Phantom of the Opera has five main characters. The "Phantom", played by Ramin Karimloo, is a brilliant musician and magician born with a terrifyingly deformed face, who escaped from captivity in a traveling freak show. He hides his face with a mask. One of his props is a magical lasso.
Christine, played by Sierra Boggess, is a beautiful young chorus girl that the Phantom manages to insert into a starring role in several operas. She is in love with Raoul, her old childhood playmate and now a viscount and patron of the arts
Raoul, played by Hadley Frazer, is secretly engaged to Christine but finds himself in the difficult position of having the Phantom as a rival suitor, especially one armed with a magical lasso.
Carlotta, played by Wendy Ferguson, is the Opera's resident soprano prima donna.
The interplay amongst these characters results in a very entertaining performance – one you will be sure to enjoy.
Everyone is invited to enjoy this great musical which is free; donations are appreciated. For information, call (802)228-7239 or visit the FOLA web site, www.fola.us.
As part of its 2017-18 capital improvement projects, FOLA, under the guidance of Jim Alic, has begun work on a new dressing room in the auditorium's back stage.
Pictured above are, from left to right, Jim Alic and David Almond as they prepare one of the new wall frames for the dressing room. Plans call for the dressing room to feature a 9 foot counter-top, two vanity mirrors, a full length mirror, a closet, modern lighting, and other facilities. With the help of Ken Cook Electrical, it is planned to have the new room in service by mid September.
Other projects will include the integration of the two audio systems in the auditorium, the addition of new equipment to support streaming, and new streaming sources to enhance FOLA's 2018 program schedule.
Click HERE for preview
FOLA's (Friends of Ludlow Auditorium) next movie will be "Spectre", a James Bond feature, on Saturday, October 14 at 7 PM in the Ludlow Town Hall Auditorium.
Spectre (2012) is the twenty-fourth spy film in the James Bond film series produced by Eon Productions for Metro-Goldwyn-Mayer and Columbia Pictures. It is Daniel Craig's fourth performance as James Bond, and the second film in the series directed by Sam Mendes following Skyfall, with a screenplay written by John Logan, Neal Purvis, Robert Wade and Jez Butterworth.
The story sees Bond pitted against the global criminal organisation Spectre and their leader Ernst Stavro Blofeld. Bond attempts to thwart Blofeld's plan to launch a global surveillance network, and discovers Spectre and Blofeld were behind the events of the previous three films. The film marks Spectre and Blofeld's first appearance in an Eon Productions film since 1971's Diamonds Are Forever with Christoph Waltz playing the organisation's leader. Several recurring James Bond characters, including M, Q and Eve Moneypenny return, with the new additions of Léa Seydoux as Dr. Madeleine Swann, Dave Bautista as Mr. Hinx, Andrew Scott as Max Denbigh, and Monica Bellucci as Lucia Sciarra.
Spectre was filmed from December 2014 to July 2015, with locations in Austria, the United Kingdom, Italy, Morocco and Mexico. The action scenes prioritised practical effects and stunts, while still employing computer-generated imagery made by five different companies. Spectre was estimated to have cost around $245 million, making it the most expensive Bond film and one of the most expensive films ever made.
The film was released on 26 October 2015 in the United Kingdom, fifty years after release of Thunderball (1965), thirty years after release of A View to a Kill (1985), and twenty years after release of GoldenEye (1995), on the same night as the world premiere at the Royal Albert Hall in London, followed by a worldwide release which included IMAX screenings. It was released in the United States one week later, on 6 November. Upon its release, Spectre received mostly favourable reviews from critics, with its acting, suspense, action sequences, and the performances of Waltz and Bautista receiving notable acclaim. The theme song "Writing's on the Wall", performed and co-written by the British singer Sam Smith, won an Academy Award and Golden Globe for Best Original Song. Spectre grossed over a total of $880 million worldwide, the second largest unadjusted income for the series after Skyfall. A sequel is set for a 2019 date.
The movie is open to everyone and is free; donations are appreciated. Popcorn will be supplied by Berkshire Bank with water provided by FOLA. For information, call (802) 228-7239 or visit the FOLA web site, www.fola.us.
We'll be showing Broadway musicals and other cultural and informational programming over the course of this year - and in the future, thanks to your contributions and a marvellous donation from the District Rotary and Ludlow Rotary Club.

Take a look at our movies and coming events to see what we'll be offerring area residents and visitors. Rather than travel to the Big Apple and spend several hundred dollars for theatre tickets, you'll be able to see prime Broadway shows and plays in the Auditorium free (donations are appreciated) - all thanks to your financial assistance!

We're planning on more improvements this year and hope you'll continue to help us present quality entertainment and public service programming in the beautiful Ludlow Town Hall Auditorium.
<!p align="right" style="margin-top: 0; margin-bottom: 0">

or

Mail to:

FOLA

1 Whispering Pines

Ludlow, VT 05149