Friends of Ludlow Auditorium
1 Whispering Pines • Ludlow, VT 05149
Tel (802) 228-7239 • email: info@fola.us
[a 50l (c)(3) organization]
"Our purpose is to promote the use of the Ludlow Auditorium
for the benefit and entertainment of the people of Ludlow,
the surrounding Black River area, and its visitors"
FOLA Notes . . .
(Pictured above is the cast of the FOLA Follies of 2016 in the opening number.)
Missed seeing the FOLA Follies of 2016? You can still see the show - just
click HERE !!!
Checkout FOLA's Summary of Activities and Accomplishments by clicking HERE.
Coming Movies:
June 3, 2017
at 7 PM
"The Martian"
Click HERE for preview
4/23/2017
Date of last web site update
Hit Broadway Musical Comes to Ludlow
FOLA (Friends of Ludlow Auditorium) will present its second streamed Broadway musical, "Cats", on Saturday, May 20 at 7 PM in the Ludlow Town Hall Auditorium.
Cats is a musical composed by Andrew Lloyd Webber, based on Old Possum's Book of Practical Cats by T. S. Eliot, and produced by Cameron Mackintosh. The musical tells the story of a tribe of cats called the Jellicles and the night they make what is known as "the Jellicle choice" and decide which cat will ascend to the Heaviside Layer and come back to a new life. Cats introduced the song "Memory". The first performance of Cats was in 1981.
Directed by Trevor Nunn and choreographed by Gillian Lynne, Cats first opened in London in 1981 and then with the same creative team on Broadway in 1982. It won numerous awards, including Best Musical at both the Laurence Olivier Awards and the Tony Awards. The London production ran for twenty-one years and the Broadway production ran for eighteen years, both setting new records. Actresses Elaine Paige and Betty Buckley became particularly
associated with the musical. One actress, Marlene Danielle, performed in the Broadway production for its entire run (from 1982 until 2000).
As of 2016, Cats is the fourth-longest-running show in Broadway history, and was the longest running Broadway show in history from 1997 to 2006 when it was surpassed by The Phantom of the Opera. Cats is the sixth-longest-running West End musical. It has been performed around the world many times and has been translated into more than 20 languages.
Some of the "cats" in the musical are Gus, An elderly actor, known as "the Theatre cat"; Bustopher Jones – A fat cat respected by all, as the upper-class "St. James's Street Cat"; Grizabella – A former "glamour cat", ostracised by the Jellicles, who has lost her sparkle and now only wants to be accepted. Jellylorum – A queen who watches out for the kittens; Jemima – A kitten. She becomes the first cat to accept Grizabella; Jennyanydots – The old Gumbie cat. She sits all day and rules the mice and cockroaches at night, forcing them to undertake helpful functions and creative projects, to curb their naturally destructive habits; and Old Deuteronomy – The elderly Jellicle Leader.
The musical event is free and open to everyone; donations are appreciated. For information, call (802) 228-7239 or visit the FOLA web site at www.fola.us.
Just prior to the beginning of the April 8 movie, "On the Waterfront", the 3,000th viewer of FOLA's (Friends of Ludlow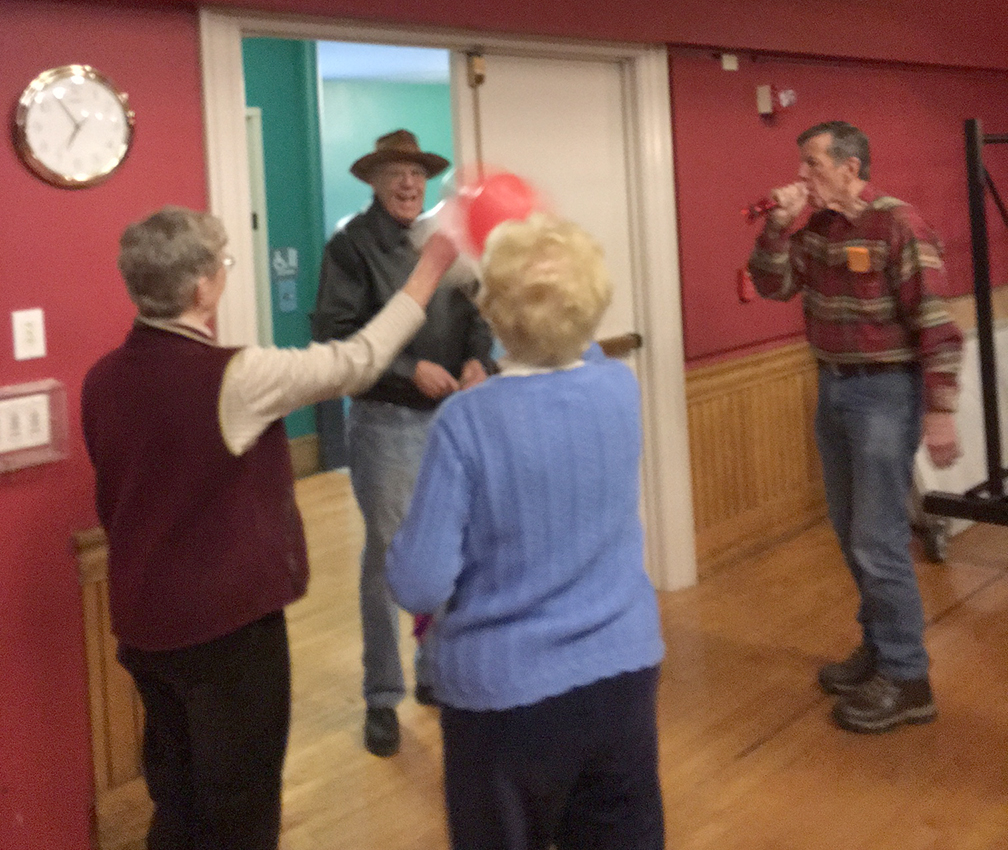 Auditorium) movie entered the Ludlow Town Hall Auditorium.
The lucky viewer was Howard Pixley of Cavendish. As a reward for being the 3,000th viewer of the FOLA's movies, Howard was given the complete set of 16 movies that FOLA presented in 2016. He also was the cause of FOLA folks tossing balloons and making celebratory sounds with noise makers. Pictured here is the award winner as he prepares to enter the auditorium with, from left to right, Janet Pace, Howard Pixley, Beth Almond, and Divid Almond, as they honor the 3,000th movie viewer.
FOLA began displaying movies in the auditorium on April 7, 2011 with "The March of the Penquins". Since that time it has featured 95 movies. The highest attendance for a single movie thus far has been 93 people who viewed the silent movie, "Wings", om October 6, 2012. The lowest turnout was 3 who braved a very bad rain storm on April 5, 2012 to see, the first showing of "On the Waterfront", the only FOLA film shown multiple times.
Click HERE for preview
FOLA's (Friends of Ludlow Auditorium) featured May movie will be the animated comedy-drama, "Inside Out" on Saturday, May 13 at 7 PM at the Ludlow Town Hall Auditorium.
Inside Out is a 2015 American 3D computer-animated comedy-drama adventure film produced by Pixar Animation Studios and released by Walt Disney Pictures. The film was directed by Pete Docter and co-directed by Ronnie del Carmen, with a screenplay written by Docter, Meg LeFauve and Josh Cooley, adapted from a story by Docter and del Carmen. The film is set in the mind of a young girl named Riley Andersen (Kaitlyn Dias), where five personified emotions—Joy (Amy Poehler), Sadness (Phyllis Smith), Anger (Lewis Black), Fear (Bill Hader) and Disgust (Mindy Kaling)—try to lead her through life as her parents (Diane Lane and Kyle MacLachlan) move from Minnesota to San Francisco, and she has to adjust to her new surroundings.
Riley Andersen is born in Minnesota and within her mind, five personifications of her basic emotions—Joy, Sadness, Fear, Disgust, and Anger—gradually come to life and influence her actions via a console in her mind's Headquarters. As she grows up, her experiences become memories, stored in colored orbs, which are sent into long-term memory each night. Her five most important "core memories" (all of which are happy ones) are housed in a hub that each power an aspect of her personality which take the form of floating islands. In Headquarters, Joy acts as a de facto leader to maintain Riley's cheerful childhood, but since she and the other emotions do not understand Sadness' purpose, she frequently tries to keep Sadness away from the console.
At the age of eleven, Riley and her parents move to San Francisco for her father's new business. Riley has poor first experiences: the new house is cramped and old, the moving van with all their belongings was misdirected, her father is under stress from his business, and a poor encounter at a pizza restaurant leaves her disheartened.
The movie depicts how her emotional headquarters deals with these problems as she learns to deal with her new environment.
As with all FOLA movies, everyone is invited and it is free; donations are appreciated. Berkshire Bank will provide popcorn and FOLA, water. For information, call (802) 228-7239 or visit the FOLA web site at www.fola.us.
Thanks, AGAIN! Your contributions have enabled FOLA to institute a new streaming system!
We'll be showing Broadway musicals and other cultural and informational programming over the course of this year - and in the future, thanks to your contributions and a marvellous donation from the District Rotary and Ludlow Rotary Club.

Take a look at our movies and coming events to see what we'll be offerring area residents and visitors. Rather than travel to the Big Apple and spend several hundred dollars for theatre tickets, you'll be able to see prime Broadway shows and plays in the Auditorium free (donations are appreciated) - all thanks to your financial assistance!

We're planning on more improvements this year and hope you'll continue to help us present quality entertainment and public service programming in the beautiful Ludlow Town Hall Auditorium.
<!p align="right" style="margin-top: 0; margin-bottom: 0">

or

Mail to:

FOLA

1 Whispering Pines

Ludlow, VT 05149