FOLA Kicks-Off Rehearsals for 2016 Follies in February
FOLA (Friends of Ludlow Auditorium) launched the first rehearsal of its "FOLA Follies: Comedy Tonight" recently at the Ludlow Town Hall Auditorium. The initial rehearsal setup the numbers to be included in the show and who would be singing them. Pictured above are two of the key members of the Follies production, standing (and already in song) Tesha Buss with Kasia Karazim at the piano. Tesha will be directing the show while Kasia will provide the music. In the background is Izabella, Tesha's daughter, who looks like she'll be doing a little directing herself. The next rehearsal will be on Tuesday evening, December 1 at the auditorium. There are still several openings for interested people. The "FOLA Follies:Comedy Tonight" will be performed at the auditorium on Saturday, February 27. For information call 802-228-7239.
FOLA Needs Your Help To Improve Audio System in Auditorium!
In keeping with its efforts to offer improved services to the community and performers, FOLA has initiated a fund raising program to add new audio equipment that will provided greater audio clarity to the audience while customizing sound projection to all performers. This new program will enable FOLA to adjust voice quality and volume to individual performers and speakers, creating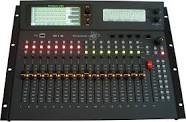 a more uniform sound level for the audience, whether it be in a musical performance, a student play, a candidate's forum, or a public information meeting.
This program will add a large number of individual head sets for performers and speakers, wireless transmitting devices, and a much enlarged audio control system to manage the volume and quality of each individual wireless head set. The projected project will also include a major rewiring of the auditorium to upgrade the facility's 1923 wiring to meet the needs of the 21st century.
FOLA will start efforts to acquire some of these funds through grants. This usually covers about 20% of the total project expense.
This means that FOLA must raise 80% of the anticipated capital costs through direct fund raising efforts to the public.
In this context, FOLA is beginning its fund raising project for this enhanced audio equipment.
Donations for this project may be made using the on-line service link below or by sending them to:
FOLA Treasurer
1 Whispering Pines
Ludlow, VT 05149
The on-line donation link is:
For additional information, call 802-228-7239 or email info@fola.us.
"The Judge" is Featured as Next FOLA Film, Saturday, December 5
Click HERE for preview
"The Judge" will be the December film offerring by FOLA. The movie will be shown on Saturday, Dec. 5 at 7 pm at the Ludlow Town Hall Auditorium.
This award-winning film stars Robert Downey, Jr, and Robert Duvall.
In Chicago, the successful and unethical defense attorney Hank Palmer defends scumbags since his only interest is getting money. Hank is divorcing and when his mother dies, his brother Glen calls him for the funeral and he leaves his daughter with his wife. He travels to his hometown, Carlinville, Indiana, and meets Glen, his estranged father, Judge Joseph Palmer and his slowed brother Dale that is obsessed for making films. He also meets his former sweetheart Samantha Powell.
On the next morning, Hank and his brothers note that their father's car is damaged and Hank goes to the airport to fly back to Chicago. When Hank is in the plane ready to fly, he receives a phone call from Glen telling that their father has been accused of hit and run and the victim is Mark Blackwell, a despicable man that was sentenced by Joseph Palmer after killing a teenager.
Hank returns but his father does not have any recollection from the accident. Soon their unresolved issues interfere in Hank's line of defense and the Prosecutor Dwight Dickham wants to see Judge Palmer behind bars to revenge Hank's victory in a trial in the past. Along the judgment, secrets are disclosed.
As with all FOLA movies, admission is free and open to everyone; donations are appreciated. Popcorn will be provided by Berkshire Bank and FOLA will offer water. For information, call 802-228-7239 or visit the web site at www.fola.us.
FOLA Announces Movie Selections for 2016
The FOLA (Friends of Ludlow Auditorium) movie committee has selected the films that will be offered by it at the Ludlow Town Hall Auditorium in 2016. One of the unique features of next year's schedule is an anthology of four classic Alfred Hitchcock films during March. The annual August silent film festival was be highlighted by the presentation of Fritz Lang's "Metropolis", a classic sci-fi film. "Metropolis" will feature the musical background provided by Jeff Rapsis.
The 2016 film selections are:
January 2 – Frozen
February 6 – The Imitation Game
March – A Hitchcock Anthology:
March 5 – The 39 Steps
March 12 – Rebecca
March 19 – Vertigo
March 26 – The Birds
April 2 – Enough Said
May 14 – Into the Woods
June 4 – Wild
July 9 – The Ghost and Mrs. Muir
August 6 – Ex Machina
August 20 – Silent Movie Festival – Metropolis
September 3 – The Theory of Everything
October 1 – Bernie
November 12 – Maleficent
December 3 – I'll See You in My Dreams
All movies will start at 7 PM and be open to the public at no charge; donations will be appreciated to underwrite the cost of the films. For additional information, call 802-228-7239 or go to www.fola.us, FOLA's web site.
Thanks for Helping FOLA Raise Funds to "Re-Seat" the Auditorium!
FOLA's has succeeded in its "reseating" project, thanks to your help!

Now people can enjoy the comfort of new, wider, more comfortable chairs in the auditorium.

Your help was essential in making this happen.

<!p align="right" style="margin-top: 0; margin-bottom: 0"> Now FOLA needs to concentrate on improved audio equipment to make your experience in viewing the many functions that take place in the auditorium more pleasant and rewarding to you.

Your continued help in this effort is imperative.

<!p align="right" style="margin-top: 0; margin-bottom: 0">

or

Mail to:

FOLA

1 Whispering Pines

Ludlow, VT 05149